Innermost Universe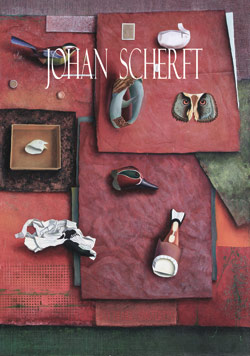 This catalogue has been published at the occasion of Johan Scherft's solo exhibition, July 1-22 2018, and is compiled and written by Koen Nieuwendijk. (16 pages, 33 full colour reproductions, ISBN 978-90-70402-53-3)


J

ohan Scherft's work adds a particular dimension to the word "makeable". As random an impression as his selection of topics may leave the novice onlooker with, he or she only needs to indulge in a moment of observation and some mental cavorting to become aware of the artist's affably critical mind-set combined with his profound commitment to living creatures, be they humans or (other) animals – for what, after all, is the difference other than the tremendous fuss humans tend to kick up? Man likes to pretend that life is makeable, and this is precisely what Scherft in a circumspect way puts paid to. It's a mechanism that all but defies explanation, but let us imagine the paintings taking up more or less centre stage and the automatons, the paper birds and the charcoal drawings of supersized animals – be they prehistoric or contemporary – serving as enlargements, as a shift in focus in part, and possibly also as a decoy. Observe the wooded landscapes and you will effortlessly come to appreciate that the six and a half foot tall, offbeat primate drawn in charcoal is most probably loitering in the canopy. The mechanism is even more obvious when applied to the birds. So where do the automatons come in, I hear you remonstrate. Ah well, didn't we just use the word makeable? Don't you too find it striking how people like to speculate on the amount of time it will take robotkind to overpower us humans? And might not the sight of the animated golden lion tamarin whose main action when wound consists in raising its eyebrows suggest to you that there is method to this particular monkey's madness?




I

f I didn't know better, I'd think that it is art itself that Johan Scherft puts to the rack. Today's – mostly well-intentioned – artistic overemphasis on social relevance has rendered art makeable, forced it into a straitjacket, isolated it from that unfathomable something that life and the arts used to have in common. Scherft negotiates this uneasy interface with the lightest of touches, or so it appears, even if it also seems as if his giant charcoal drawings are his way of committing himself to the life-size logging in a giant book of anything and everything that is bigger than man. Which in and of itself does not render life makeable either, but in contrast emphasises the airiness that lights up his paintings, automatons and paper birds. In response to all of which you and I will probably argue that nature's intrinsic beauty is so all-embracing as to do away with the need for anything else. Which is very true, especially if we pass over the fact that even the tiniest fibre forming part of the humblest of organisms is immersed in the everlasting struggle to survive, as a context which relegates the experience of beauty to no more than in-game entertainment. This by no means makes me a pessimist, I hasten to add. Does an erupting volcano – whose eruptive activity, I would point out, is nothing to do with the principle of "eat or be eaten" – meet the criteria of aesthetic interpretation only when it is considerate enough to blow its top in a remote and uninhabited location? And don't even get me started on the out-of-sight suffering of animals, our rating of which in terms of relevance tends to go up the more evident it becomes. Have you ever given any thought to the collective death struggle of millions of salmonella bacteria when sliding the bit of chicken you were having for dinner into the scalding frying pan?




A

t the end of a day of being surrounded by unwrapped works, most of them still awaiting framing, I am beginning to appreciate that the correlation is considerably more obvious than it might seem at first glance. It all depends on the distance from which you are looking at an animal or landscape, for is it not the most obvious thing for the minutely detailed trees featured in the titchy landscapes to be occupied by animals some of which Johan Scherft picks out and paints? Paper birds as paintings? For sure, created in 3D using nothing but paper and painted in oils, just like the four minutely executed simian's faces, or transformed into an automaton, isolated in a pitch-black environment and executed as such in paper and oils, but with the addition of subtle movements, thus toning down the rhythm of life to a quieting deceleration that is as easily translated into submerged propulsion. Once you have embraced the ease with which Johan Scherft jumbles up dimensions, a sense of the obvious is instilled even in his charcoal drawings of supersized animals some of which have one leg in the present, or by contrast in prehistoric times. These too are to be found – albeit scaled down to the appropriate level of titchiness – in the artist's miniature paintings.




I

sn't it an absolutely delightful experience in this age of digitisation that Johan Scherft, the artist, sublimates his fascination with all these tiny flying critters into creating the paper birds he then goes on to bring to life using his oils? Trust him to push the envelope even further on occasion, by deconstructing a bird he has just created and turning it into a card model, which he then digitises and puts up for sale on the Internet. His papercraft creations – at a fiver each – are in great demand all over the world. It is then up to the buyers to knuckle down and bring the paper bird back to life, with many of those who succeed letting Johan Scherft in – quite unprompted – on their findings and deliberations and the feelings their diminutive creation has evoked in them. With which an exceptional circle is completed thanks to the tiny step taken by human consciousness by instilling animal life into the everyday trials and tribulations of the human existence and causing these to be recounted to the advantage of the maltreated sample specimen. Which brings us full circle, no matter how much hard graft may still await us.