Van Schelpen en Scherven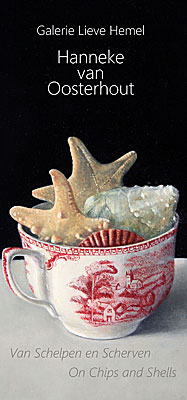 Deze catalogus is verschenen ter gelegenheid van de tentoonstelling van Johanna van Oosterhout, 3-31 oktober 2021, en is samengesteld en geschreven door Koen Nieuwendijk. (16 pagina's, 13 afbeeldingen in kleur)


S

chelpen vertegenwoordigen min of meer ongemerkt verleden en heden tegelijk. Wat ook komt omdat je van al die schelpen op het strand niet weet hoelang geleden zij nog een dier huisvestten. Maar of daar die hoge aaibaarheidsfactor en die hardnekkige verzameldrift uit voortkomt is ook niet echt duidelijk. Ik heb zelfs het gevoel dat de gemiddelde mens - nee nee, ik weet ook niet wat dat is - bij schelpen eerder aan poëzie dan aan dieren denkt. Of aan schilderijen. Hanneke van Oosterhout plaatst zich met haar keuze van onderwerp in een lange rij van respectabele namen. En weet op een vooral niet sensationele, maar juist bijna verbijsterend gewone manier een rangschikking met een schijnbaar achteloze beweging te positioneren in de krappe en op zich weinig romantische beslotenheid van een kopje. En dan ook al schijnbaar met het gemak waarmee je poffertjes met poedersuiker bestrooit, met het teerste licht op aarde een kleine chaos naar een eenheid begeleidt. Waarom het woord begeleiden. Het is alsof ik de schelpen in de kopjes zichzelf zie rangschikken in de kopjes, voordat ze zich overgeven, maar al te graag, aan de magische metamorfose die het penseel van Van Oosterhout hen oplegt.




E

en opmerking van Wijnand Warendorf, een van stillevenschilders in de galerie, is in mijn hoofd blijven hangen. Hij beschreef hoe hij tot wanhoop werd gedreven tijdens het schilderen van "Sterren van de Zee", door de onvoorstelbare en wiskundig aandoende complexiteit van het patroon van zeesterren, zichtbaar gemaakt door vergroting met een factor vijf. Vanuit de hulpeloze kleinheid van mijn gedachten, maar getriggerd door de totaal andere manier van schilderen door Hanneke van Oosterhout van schelpen en zeesterren, ben ik tot de conclusie gekomen dat alle wiskunde, die door menselijk toedoen is ontraadseld - wat suggereert dat dieren ook iets kunnen ontraadselen, maar of dat zo is kunnen mensen weer niet ontraadselen - uiteindelijk iets is dat al bestaat. Iets staat in principe voor de resultante van andere processen, die essentieel zijn voor het bestaan van het heelal, waartoe die essentie wel ergens in besloten moet liggen, opdat ooit, onder specifieke omstandigheden, in een symbiose van patroon, recept en proces, de optie van herhaling en dus herleving beschikbaar blijft.




H

et bedenken van het voorgaande geeft mij rust, al moet ik toegeven dat ik parallel daaraan een plaats probeer te geven aan de totaal verschillende wijzen waarop beide schilders het licht deelgenoot maken van hun raadsels. Ja ja, ook licht laat zich vangen in wiskundige formules, maar hoe dat in verhouding staat tot de gevoelens die dat oproept, is niet duidelijk. Ja ja, ook gevoelens zijn terug te brengen tot elektrochemische activiteit, bij wijze van eenvoudige beschrijving van de werking van de hersenen, maar veel verder dan het meten van pulsjes gaat dat nog niet. Er zijn mensen, en ook wetenschappers, die denken dat wij ooit in staat zullen zijn de mens een op een te reproduceren, als we maar diep genoeg in de details van de processen duiken - processen waarin onder andere de elektrische activiteit van zoiets als synapsen worden uitvergroot tot stappen als het aanzetten van een zaklantaarn. Ik help het hen hopen, maar eerlijk is eerlijk, als het heelal zich gedraagt als een gesloten systeem, waarin ondanks de zwarte gaten niets verloren gaat, ook niet zoiets basaal menselijks als kennis, dat die mensen en die wetenschappers dan zomaar gelijk kunnen hebben, al blijft de oplossing van de vraag naar de herkomst van al die genialiteit - of al dat fundamenteel eenvoudigs, de beperkingen van de menselijke maat even buiten beschouwing latend - onbeantwoord. Maar ik dwaal af.




O

p een van de schilderijtjes van Johanna van Oosterhout staat een obligaat gebloemde kom met kersen. De de voet van de kom mist een scherf. Ik denk dat zij het niet erg vindt als ik uit de school klap als ik u voorhoud dat die missende scherf voor haar de hoofdzaak is van het schilderij. Ik heb werkelijk geen flauw idee hoe ik zoiets futiels als die scherf moet rijmen met de hoogdravende woorden, die ik hierboven op u losliet. Wel weet ik zeker dat ik het met haar eens ben. En dat die onverwoordbare boodschap mij trof als een mokerslag, gewoon, door het zien.