Technische specificaties: (English translation)

- bouwjaar: 2002
- materiaal: italiaans grenenhout (Cirmolo)
- afmetingen: lxbrxh 433 x 193 x 120 cm
- gewicht: 650 kg
- aandrijving: 1-cylinder 10 pk Yanmar scheepsdiesel
- maximum snelheid: 5 km per uur (en daarmee de langzaamste Ferrari ter wereld)
- draagvermogen: vier volwassenen
- prijs Euro 105.000


De varende houten Ferrari F 50 is de Marchi's vijfde auto. Eraan vooraf gingen houten herscheppingen van:
- de Fiat Topolino A uit de dertiger jaren,
- de Jaguar SS 1937,
- de Mercedes Gullwing SL 300 1955 en de
- VW Kever Cabriolet.

Deze houten creaties dienen ook een specifiek Venetiaans belang. Er mogen daar dan wel geen auto's rijden, boten varen er des te meer, en niet zelden harder dan wenselijk is. De opzettelijke ironie van de houten auto's van Livio de Marchi schuilt onder meer in het contrast met snelheid van de blikken uitvoeringen: zo tuft ook de houten Ferrari F 50 met aandoenlijke traagheid door het water, net hard genoeg om een echte, maar vriendelijke boeggolf te veroorzaken.


Technical specifications:

Constructed in pine (Cirmolo) 2002
Dimensions: length 433 cm, width 193 cm, height 120 cm
Weight: 650 kg
Driving gear: one-cylinder Yanmar ship diesel
Maximum velocity: 5 kilometres/hour, engine capacity 10 hp
Deadweight capacity: four adults
Price: Euro 105.000


The floating wooden Ferrari F 50 is Livio de Marchi's fifth car. It was preceded by wooden recreations of the Fiat Topolino A 1930s, the Jaguar SS 1937, the Mercedes Gullwing SL 300 1955 and the Volkswagen Beetle Convertible 1966. These wooden masterpieces serve a specifically Venetian purpose as well, for although cars have been banned from that city, boats are free to go wherever the canals take them (and at breakneck speed more often than not, we should add!). The premeditated irony of Livio de Marchi's wooden cars is provided, among other things, by the sharp contrast with the speed of their metal counterparts: the wooden Ferrari chugs along the canals endearingly sluggishly, managing just enough speed to produce a genuine yet gentle backwash.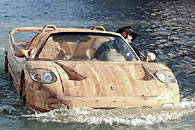 2002







1989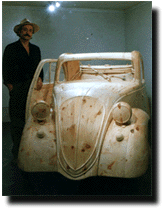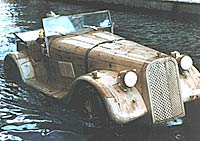 1988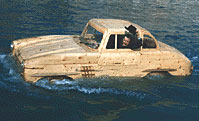 1997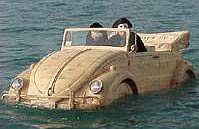 1999